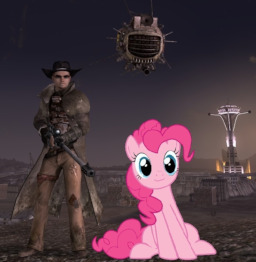 After finding a downed space ship, Courier 6 (aka Jacks) and his closest companion ED-E find an energetic pink pony that survived the crash. The pony agrees to join Jacks with the promise that he will find her a way home. What follows is a series of amazing, wild, and crazy adventures all across the Mojave desert. Friends are made, enemies are killed, parties are had, and Pinkie Pie-isk insanity ensues.
this is not a Fallout Equestria fic, nor is it an average fallout crossover.
(because lets face it, nothing is "average" if Pinkie is involved).
This will be written and updated whenever, so no deadlines on new chapters.
Chapters (16)