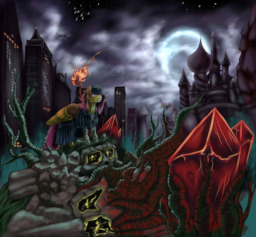 Source
One strange day, Harry Dresden turned into a tiny pastel horse with two girly tattoos on the rump.
She was not pleased about this.
And as strange and horrifying as this was, even by Chicago's only professional wizard's standards there was a new job to do, and some new bunch of bastards to thump until they stopped their dastardly pony plans!
Except… there seemingly wasn't a culprit to be found. No dark gods with a thing for horses had risen. No doomsday cults with a thing for pastel had declared their vile, equine intentions. Not as much as an ifrit with a lisp...
It seemed as if whatever had turned so many humans into ponies would simply be a strange and unsolved mystery.
Reluctantly, life simply had to go on, even if it was with double the number of legs as normal.
Now, months later however, this country with the rather silly name of Equestria wonders what became of one of their lost champions, and just why she never returned to them...
---
Five Score universe by TwistedSpectrum.
Dresden Files and all characters belong to Jim Butcher.
MLP:FIM is Hasbro's, but you should know that by now.
---
Written as a small Christmas 2014 gift to my followers.

Character tags to be added once done, to maintain surprise.
Story contains spoilers for the Dresden Files series, up to Skin Games! Also, spoilers in the comments!
Chapters (8)