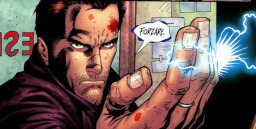 Source
"Knowing all you've seen through that man's eyes, all his powers all but forced him to do... would you still strive to all but become him?"
Knowing what I know now, and what creepy sense that strange peddler's words now make to me...
I'd still say hell yes, of course. Come on. Magic. That's like the best thing that ever happened to me.
Becoming enemy number one of a country with demi-gods at the top just because my snark has gone into overdrive? Not so much.
---
For the League of Humans Acting Villainous group. Edited by Ranakastrasz, newbiedoodle, and Xanathar.
Will contain spoilers for the whole of The Dresden Files up to Cold Days, but can be read without knowledge of the series.
Thanks to the Dresden files wiki for making this easier and everybody that's made this bandwagon worth jumping onto.
Chapters (7)