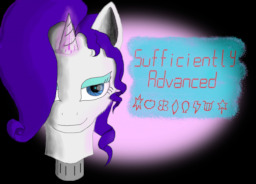 Source
Current description is outdated and horrible. Thank you for your patience while I figure out one that actually does this story justice.
Note: I think this story works better if read without the long synopsis. The sex and gore tag refers to light content of both. Think summer-blockbuster.
The story is a HIE with post-cyberpunk in the mix, and most of the human main characters are full-body cyborgs meant to look like MLP:FIM characters. If this is enough to grab your interest, then please skip the below text.
Spoiler prevention.
X
X
X
X
X
It is the year 2310 and trans-humanism is within the grasp of anybody that cares for it...
The public responded with "Eww..."
Even so, life and technology marches on.
Such as in the Pheidippides, humanities first try at a manned starship with a range outside our solar-system.
But not all see it as a glorious day. The Ludz, a neo-luddite terrorist group is howling for blood...
And that was before Captain Gregory starts recruiting heavily among the transhuman community.
The response, sabotage of the experimental engines.
Now, stuck in orbit above a world that shouldn't exist, in a ship that barely is holding together and most of his crew dead or wounded...
How exactly do you perform first contact... when your experts looks like bad imitations of the heroes of the land?
---
The other character tag refers to: Shining Armor, Cadance, Luna and Celestia.
Edited by the talented AppleTank and formerly edited by Razzle Dazzle. Go show your appreciation by checking out their stuff if you have a moment.
Cover by AppleTank. His DeviantArt page may be found here.
Chapters (7)