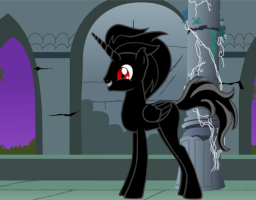 Source
This is meant to be a (mostly) comedic take on the subject of a person ending up in Equestria as a red and black alicorn. Please read at least chapter one before down-voting into oblivion. Edited by DarkParable and Xanathar, so go check their stuff out.
I got this comment from Xanathar while being literately sick with a fever:
Don't worry. Looks like you are just a niche author.
Your writing is too confusing and smart for connoisseurs of red and black alicorns, but too esoteric and rough for high-brow crowd. For example, you still don't fixed seven improper uses of then in the second chapter of Rare Source. Every orthodox grammar nazi closed tab after second improper use.
Probably you never will be a popular author. Deal with it. I'll fain take you anytime than 99.9% of shit featured on the main page.
Then I thought: Challenge accepted! Muhahahahahahahahah!
The idea of this fic just kinda flowed from there. (The slip-up has been corrected, by the way.)
Onward towards this train-wreck of a idea that amused me while sick!
Don't expect frequent updates or this making sense. Tags updated as I write. For the League of Humans Acting Villainous
Pic made using Generalzoi's Pony Creator while laughing uncontrollably. Link in the pics source.
Chapters (4)