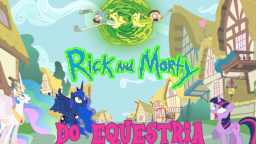 "Hey, uh, Rick, what did you want me to, uh, write down here again?"
"Look, Morty, it's not that urp complicated, just, just write down a generic description of what we did."
"But Rick, we did a lot of things!"
"Then figurp it out, Morty. Christ, and here I thought you were getting at least a bit smarter. Just, write down something about, uh, 'Rick and Morty Get Stuff From Horse Land'. 'Morty and Rick and something something horse pun'. I dunno, something."
"I want to go back to the ponies..."
"Oh, I bet you would like that, huh, MMMorty? Go back to the girly dimension full of urp friendship and magic and all that. Look, just give it here, I'll, uh, just put it up as it is."
Now with coverart by some guy named Shadow Bolt
Chapters (5)