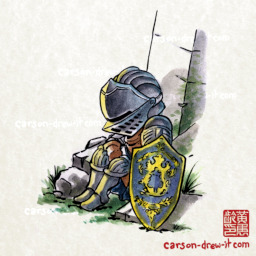 * Warning Minor Spoilers Ahead About The Plot Of Dark Souls, You have been warned *
Oscar, Knight of Astora was born with a sliver spoon in his mouth and a honourable crest by his side. His family in Astora wealthy and prideful, though this never corrupted his kind soul and warm spirit. His integrity always put to the test in this harsh, unforgiving world. When Oscar was a child of a tender age all he wanted to do is help the weak and powerless. He always saw this as his highest purpose, though as soon as his parent enrolled him into to "Astora's Elite Knight Academy" Oscar realized that if he became the greatest knight in all of Astora he could be more then a hero.
Though now after all these years Oscar is going to die in a cold, dank cell but what if there is a alternative, A way out from his hollowing and the chance to be truly alive again for as he family says.
"…Thou who art Undead, art chosen...In thine exodus from the Undead Asylum, maketh pilgrimage to the land of Ancient Lords…When thou ringeth the Bell of Awakening, the fate of the Undead thou shalt know…"
Who's to say that the land of Ancient Lords is not Equestria? Follow Oscar on his pilgrimage to find out the fate of all the Undead who come to Equestria.
* Amazing Art Work By Carson-Drew-It! Check his art work out at http://carson-drew-it.tumblr.com/
Chapters (2)