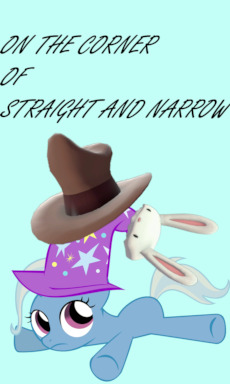 Source
Magician pulls rabbit out of hat? Standard.
Rabbit pulls magician out of hat? Not so standard.
Psychotic lagomorph pulls filly magician with delusions of grandeur out of hat? Normal for here.
Lagomorph can't/won't put her back? Sounds like a case for the Freelance Police.
Sam and Max have handled many big cases, and their biggest are yet to come. However, it looks like there's someone else along for the ride...someone who refuses to be sidelined, is eager for the spotlight...and is too cute not to spoil rotten.
------------
Part of the PWNY-verse.
Edit: New cover art by EmmyWithVeri!
Chapters (44)