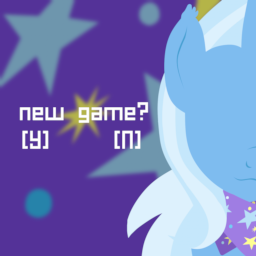 Source
Edited summary and added forgotten tags.
. . . . .
Trixie Lulamoon was many things. Great and powerful? Yep. Honest and caring? You know it. Braggart? Of course.
And... dead? Well, she is now.
Nothing short of a heart attack could kill Trixie. Granted, that's exactly what does her in. After seeing an Ursa Minor for the first time—up close and personal—and assuming it's a Major variant, she just abruptly dies. This wasn't how she was supposed to go; a finale spectacular was to be her destined end.
However, not anymore.
Thankfully, the Daedric Gods, a few steps above the Princesses of the realm, deem her worthy of a complete restart—while accidentally adding a bit of self-awareness in this new life of hers. It invokes a new sense. Something very few have heard of.
The Gamer.
Blame Sheogorath, he's the one always putting that particular seasoning right next to the salt.
. . . . .
Multiple crossovers? Unadulterated idiocy? Flashbacks from Vietnam? Yep, you've stumbled upon Tact's take on "The Gamer" trope. Hopefully, it isn't too bad.

Enjoy!

Chapters (1)