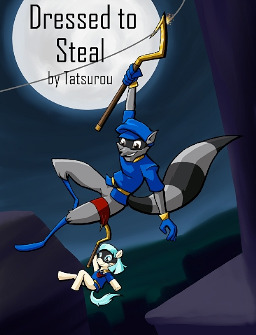 Source
The Cooper Gang has faced many hurdles since they left the orphanage together. Each heist held its own hazards, its own problems, and its own consequences if anything went wrong. However, by working together, Sly, Bentley, and Murray have handled everything thrown their way.
However, their next mission saddles the raccoon leader of this little band of thieves with two hurdles he never anticipated, ones he'll have to handle himself: romance and fatherhood. After all, how could he resist the allure of the lovely Carmelita Fox, even if she is on the side of law enforcement? And an orphan himself, he could never turn his back on the lost, alone, and scared Coco Pommel, a tiny pony filly small enough to fit in his hand...and threatened by the worst of the worst of the criminal world.
Little did he know just how much these decisions would change all their lives.
----
Part of the PWNY-verse.
Edit: New cover art by Technopathic
Edit 2: New fan art by The Emerald Nightingale
Chapters (144)