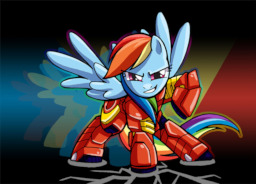 Tony Stark had everything he wanted in his life. He had his company. He had a carefree life where he could simply enjoy himself and tinker with whatever came to mind...and he was a super hero to boot! He couldn't imagine ever being happier.
And then a rainbow-maned Pegasus foal dropped into his life, and turned it upside down.
Lucky for Tony Stark that the multiverse is much more imaginative than he is.
---
Part of the PWNY-verse.
Will freely mix several different Iron Man continuities based on what makes the story work best.
Chapters (24)