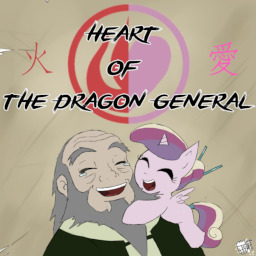 Source
General Iroh. Fire Nation hero. First born son of Fire Lord Azulan. The Dragon of the West. It was thought he would be the greatest warrior in the history of the Fire Nation.
But all that changed when the war claimed his son's life. This changed him, and he turned his back on the war.
This was a necessary event. Iroh had a role to play in bringing balance back to the world...but to play that role, he first had to be broken down, so that he could be rebuilt. This truth was self evident in the spirit realm.
But one particular spirit felt this was unfair to Iroh. The wheels of fate are cruel to those caught in the gears, but this particular spirit felt that Iroh deserved kindness. And so this spirit sent Iroh one who would help him to rebuild himself.
And so, shortly after his son's funeral, Iroh would find a creature sent by the spirits, the likes of which he never would have imagined...a pretty pink pony princess.
Somepony to love...and be loved by.
---
Part of the PWNY-verse.
Edit: Now with Fan Art by Mewappony.
Edit 2: New Cover Art by Sanyo21!
Chapters (64)