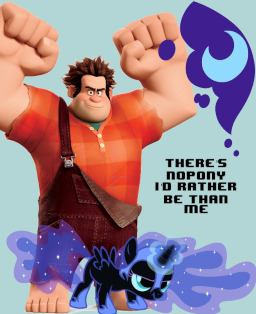 When Wreck-it-Ralph finds a villain character who seems to have gone Turbo, he finds more than a handful in the handful sized sprite.
For one thing, she has no idea what game she comes from.
For another, her code seems completely foreign to the Arcade.
For a third...she's absolutely adorable.
Having only just finished cleaning up after King Candy's mess, this little Nightmare could be a problem...or the greatest blessing Ralph has ever received.
And shadows from the past move behind the scenes...
---
Part of the PWNY-verse.
Edit: Now with cover art by KittyCoverArt.
Edit: Now with fan art at the end of the first chapter.
Chapters (36)