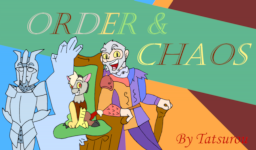 Source
Sheogorath, Daedric Prince of Madness. Ruler of the Shivering Isles. Crafter of dangerously unstable magical artifacts. Cheese aficionado. A lonely old man.
Discord, Spirit of Chaos and Disharmony. Once Ruler of Equestria. Master of unraveling reality. Maker of cotton candy clouds filled with chocolate rain. For some reason an infant.
Now read of this pair as Father and Son.
...abandon Logic, all ye who enter here.
---
Part of the PWNY-verse.
New cover image by ProfessorCatPro
Chapters (35)