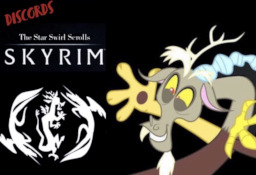 Spike bought a new Ponystation 4 (PS4) deciding to switch up from the regular Ogres and Oubliettes, much to Discord's disappointment. Alas, the new game he has IS intriguing however, Less immersive.
Deciding to humour him, Discord listens intently to Spikes description of the captivating new game he bought; Skyrim: The Star Swirl scrolls. As it so happens, the game includes all the most important ponies in Equestria as characters... well, all except the mane 6. Upon finding out they are not featured in the game, the girls express disappointment, and when Discord takes this a bit TOO seriously, a misunderstanding leaves them hauled into the console itself. They now seem to be stuck.
Twilight, Discord and Rarity are now unable to use thier usual great magic, as their magicka levels are not high enough. Pinkie has a desire to conquer all the boiled cream treats in the land. Rarity cannot stand some of the apparel. Fluttershy certainly doesn't like the idea of violence. Rainbow dash is torn between the Imperial Celestials, and The Stormcloaks, and Applejack falls in love with honningbrew mead.
Spike, who can control some of their actions with his ponystation controller, tries his best to help from back in Equestria, as the mane 6 and Discord attempt to complete the main storyline of the game. It's one of their only hopes of making it back to Equestria. But between Twilights need to accept every side quest the NPC'S ask of, will they even get to the end of the main quest? Now they must level up from scratch. Chaos ensues.
WARNINGS:
Gore and violence tag for violent themes and some disturbing descriptions.
Sex tag for some sexual themes and a few heated scenes, however nothing in full detail.
Death tag, as Death in this game is imminent and therefor, the story.
Narcotics tag, for implied substance use and alcoholic beverages.
Recommended age for reading: 16+
Disclaimer: This is a spin off on the game, Skyrim: The Elder Scrolls V. I do not own/partake in productions of Hasbro, or have any part in Bethesda. This was made purely for fun and nostalgia for a series and game I am quite fond of. guilty pleasure.
Credit to: psychicscubadiver
For the idea on naming it a Ponystation 4 (PS4)
as it was originally (PPS4 Pony Playstation 4) and Ponystation flows much better.
Credit to: IndulgingCulture
For helping me choose a more detailed beginning, in regards to the plot hole they pointed out to me, of Spike being able to get his claws on an 'M' rated game, and also correcting a capitalisation and a few misspellings. You're a star!
Chapters (4)