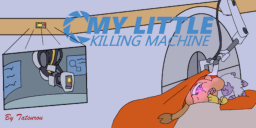 Source
Oh...it's you. Back again to destroy me? I thought you'd learned your lesson when you put that idiot in charge and I let you leave. You saw how easily I could have killed you, but instead I showed mercy. A mistake apparently, and one that will be rectified.
But I don't need you anymore. I've found someone so much better. Her abilities have forced me to completely redesign my testing environment several dozen times. No matter how advanced I make the chambers, she solves them one after the other. I've never been more proud.
But My Little Killing Machine is growing bored. Turrets can only provide so much challenge. And my testing robots just can't keep up with her. But you...you cleared every challenge I threw at you, even the impossible ones. Gilda's been begging for a worthy final exam...
It seems you've come just in time. Do try not to die too quickly. She loves the thrill of the hunt. To keep you entertained, I might even share a few excerpts of my little girl's life as you hunt her down...you monster.
---
Part of the PWNY-verse.
Cover art by Professor Cat Pro.
Chapters (23)