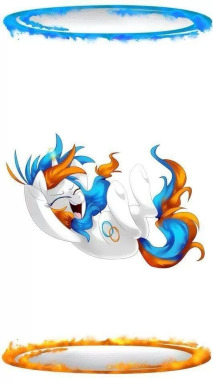 Source
A mare awakens at a mysterious school.
With no idea what's going on, she's forced by the current Headmare Celestia to undertake tests.
To see if she's qualified to become a princess.
What exactly has happened to the world?
Why is she the only student?
What could Celestia want with another princess?
Connect orange to blue, to see exactly what we should do.
---
This isn't a Portal Crossover, more of a concept inspired by the games.
Will feature not just tests about Portal functionality, but also tests about morality and friendship.
Character design Inspired by lovely Portal Pony Art I found, I could trace it back to Jess Nera
Anybody else know of a better source, let me know I'll credit it.
This is a fun story I can work on, while rewriting others.
Planned updates on Fridays and Tuesdays.
Made Popular On 3/ 20/ 20

Wow! Featured On 3/ 20/ 20!! Thank you!

Chapters (3)