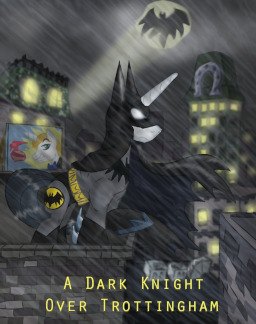 Source
For most of his life, Blueblood has lived in the shadow of his parents' murder. His past has haunted him, kept him from moving on and achieving something beyond "President and CEO of Mane Enterprises".
But when his life is thrown out of balance once again, Blueblood begins a journey that will lead him to becoming something more than just a pony.
He will become a legend.
A Dark Knight.
Cover art by Supersheep 64
Comments contain spoilers. YOU HAVE BEEN WARNED!
Takes place in the same universe as Mare of Steel, The Princess of Themyscira and In Brightest Day, In Blackest Night. Reading those first is recommended, but not required
Chapters (4)