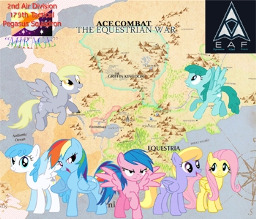 Source
The Griffin Kingdom prepares an invasion on Equestria, and when the Wonderbolts are incapacitated by two griffin aces, a group of pegasus ponies, assembled by Firefly, becomes the land's main aerial defense force, supporting each other in the hardest of times. It's a story of revenge, friendship, sadness, struggles and sacrifices, a war which will change the lives of many a pony and griffon...
Pre-read and proof-read by Rethkir
This is the first story of the mini-series "Ace Combat: Equestria Chronicles". The story takes place some time after the second season of the show.
It is not a direct adaptation of any Ace Combat game, but it contains elements and references to the following games:
- Ace Combat 04: Shattered Skies
- Ace Combat 5: The Unsung War
- Ace Combat Zero: The Belkan War
- Ace Combat 6: Fires of Liberation
- Ace Combat: Assault Horizon
The "sad" parts occur every now and then, especially after chapter 9.
All chapters in this fic, except for chapter 15, contain links leading to themes from Ace Combat series. It's used to create an atmosphere. Use "Open in new tab" to listen to these themes. Expect ponified AC characters to appear ;)
It has a sequel:
Ace Combat: Wings of Unity
as well as a follow-up spin-off:
Ace Combat: Gryphon Wings
Chapters (21)