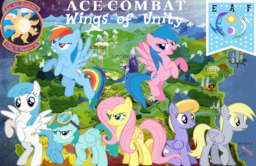 Source
This story is a sequel to Ace Combat: The Equestrian War
---
Two years after the war with the griffins, peace and harmony once again returned to Equestria. But, from the shadows of the past, a new enemy emerges...
Descendants of ponies, who were long ago exiled from Equestria by Princess Celestia for their dangerous behaviour and experiments, seek to return to the land they used to call home. Over the years, their leader had amassed a great army and gained powerful allies. She decides to exact revenge on the one who exiled her... Princess Celestia realizes the threat and enacts a plan she started shortly after the end of The Equestrian War.
When the conflict erupts and Equestria is attacked by initially unknown enemy, the Mirage squadron is once again sent to the skies, with Rainbow Dash leading them through countless perils. But will the Angels of Equestria be strong enough to stop another invasion of enemy forces? Or will they fail? Only time will tell...
Pre-read and proof-read by Rethkir
This is a second story of the mini-series "Ace Combat: Equestria Chronicles". The story takes place during the third season of the show. However, I decided to exclude episodes after "Spike At Your Service" (since it is not specified when exactly they happen), mostly to avoid any additional drama regarding the Twilicorn or Discord interfering.
Like Ace Combat: The Equestrian War, this is not a direct adaptation of any Ace Combat game, but it will contain many references to the series, as well as to MLP: FiM itself. In particular, it contains elements and references from the following games:
- Ace Combat 6: Fires of Liberation
- Ace Combat X: Skies of Deception
- Ace Combat Zero: The Belkan War
- Ace Combat 5: The Unsung War
- Ace Combat: Infinity
- Ace Combat: Joint Assault
- Ace Combat 7: Skies Unknown
All chapters in this fic will contain links leading to themes from Ace Combat series. It's used to create an atmosphere. Use "Open in new tab" to listen to these themes.
Preceeded by a spin-off:
Ace Combat: Gryphon Wings
Chapters (20)