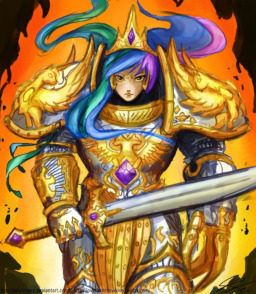 Source
This story is a sequel to The God Empress of Ponykind
---
A message rings through the Warp: "The Game is broken, only Destruction remains". Celestia hears it, fearing for the lives of her former subjects and those of her beloved ponies. Unwilling to sit idle, she has chosen a dangerous path: return to the Imperium, take up the mantle of Emperor of Mankind, defeat the coming storm, and save Mankind once and for all.
With Twilight Sparkle to aid her, Celestia faces new challenges and new enemies. Her forces are scattered, her people assaulted, and the enemies of Man grow stronger with each passing day.
The Time of Heroes is gone. Now comes the Time of Ending.
---
Sequel to God Empress of Ponykind. Reading that first is strongly recommended.
Rated T for 40K related violence, but that might change at some point.
Comments contain spoilers. You have been warned.
Chapters (61)