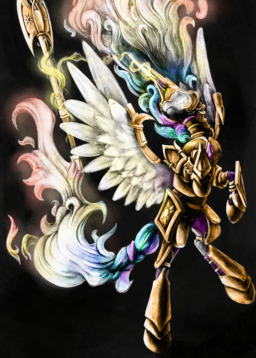 Source
Princess Celestia: Goddess of the Sun, ruler of Equestria, beloved Princess of ponies. She is loved by all, and loves all in return. A calm and wise ruler, she sits on the throne in Canterlot, maintaining peace and harmony throughout the land.
What most don't know is that her past is much darker: She was once a commander of legions, a warrior and scientist of unmatched skill. Thousands of monsters and abominations fell to her forces, slain in the name of an old leader, one entombed within his own throne. Free of her old form, free of the powers of Chaos, she was cast into a new realm, in a new form, with a new lease on life.
She is the God Emperor, Eternal Ruler of Equestria and Lord of the Imperium of Man.
Has a TvTropes Page. Please contribute.
Comments contain spoilers. YOU HAVE BEEN WARNED!!!
Chapters (17)