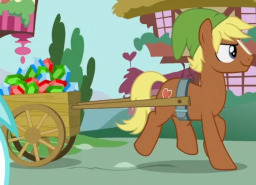 Decommissioning comes more easily to some ponies than others. Sweetie Drops happily fell into her cover identity. Not all of her co-agents reacted similarly. Now a stallion born to risk his life for the greater good has to find a way to make that talent work with being a husband and a father.
This might be a bit complicated for fillies who are still in elementary school.
Set during late Season 5.
A revised entry in the July 2016 Writeoff Competition Prompt: "End of an Era"
Chapters (1)