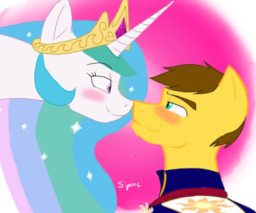 Source
This story is a sequel to No Nose Knows
---
It is recommended you read No Nose Knows first but it's not absolutely required.
---
Baked Bean was just a regular citizen of Equestria until one fateful day when he accidentally booped Princess Celestia's nose with his own and then found he was forced to marry her to fulfil the terms of an ancient law. Miraculously, Love has blossomed between the princess and the pauper, and the new Prince of Equestria is now looking forward to taking his place at the side of the Princess of the Sun.
But Baked Bean is still very much a novice in the realms of government and nobility, and he's in for quite the crash course between old foes, snobby ministers, and his own shortcomings...
But at least Luna tolerates him now.
~*~
As seen on Equestria Daily!
Proofread and Preread once again by Georg, Moon Fire, Zen and Ponies, and Sipioc!
And with much thanks to You-Know-Who for the cover art!
Chapters (42)