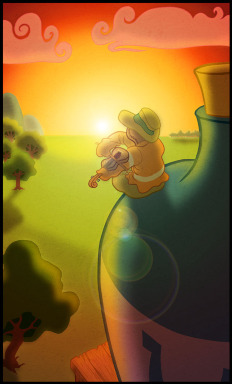 Hollow Shades is a small farming and lumberjacking community, a tiny bubble of Equestria smack in the middle of the Everfree Forest. Things have been hard-going since the lumber mill was closed down by its aristocratic owner, and the town is slowly dying. The fate of the town weighs heavily even on the town's youth, with young filly Corn Crib of the Harvests being intimately aware of the fact things aren't going well for her family and friends. And then, a ray of hope comes into her life when she encounters a most unusual figure on the road nearby; a talking scarecrow, one that claims to be Lord Barleycorn, the King of Autumn, who promises to help her however he can. Can the two of them succeed in breathing life back into Hollow Shades?
This is a lighthearted story that contains lots of OCs and an original setting. The mane six will appear, but not until later chapters.
Chapter Progress: 9 pages
First time featured was May 23, 2014! I can't believe it! Thank you everyone! =3
Now with its own TVTropes page!
Picture was made by my friend Escopeto. He did a fantastic job of representing my story.
Chapters (47)