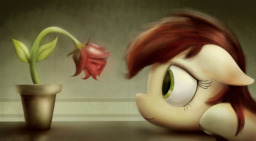 Source
A series of personal tragedies has left Roseluck despairing of life. Now in the hospital, she faces a difficult path to recovery from her depression. With caring but imperfect friends, an unconventional counselor, and a head full of questions, will she ever return to a happy, normal life?
Cover art by SubjectNumber2394, used with permission.
Special thanks to Caddy and Melody Pope for editing and story suggestions.
Chapters (6)