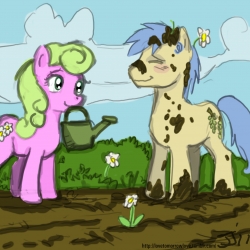 This is a story about Colton Vines and Daisy as well as some of the other background characters.
Disclaimers:
I do not own MLP or any of these characters. They are the property of Hasbro.
Please rate, comment, and criticize constructively and be specific. This is not only my first fanfic, but my first ever work of literature that isn't a poem, so please be honest as a member of the Apple family.
I tend not to use characters from the show, so most of the characters I use, I can't tag. (Kinda lame right?) anyway, I'll add a couple more once I write them in.
Got the picture from ponibooru. The title says the artist is John Joseco.
Chapters (10)