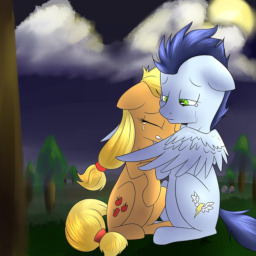 Source
New cover image commissioned from rainbowfaux
While spending the day at a fair in Ponyville, Soarin' is injured and stays at the farm for a while. He develops feelings for AJ, but can't act on them. When unexpected circumstances turn AJ's world upside down, will Soarin' stay to help her through? Will he ever be able to tell her he loves her?
Please comment and critique.
My little pony is property of Hasbro.
Chapters (15)