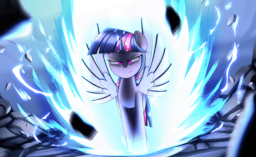 This story is a sequel to Twilight Gets a Puppy, Season 3
---
Twilight Sparkle and her brother Rahs Sparkle have become gods. One would think that would mean that there would be less problems for them. Having survived three years in Ponyville [ or Ponyville having survived three years of them] the Sparkle siblings and their friends are about to have a whole lot more problems.
Vicious vines, end of the world doomsday cults, vampire ponies, Equestria Games, Party wars, Lip sync scandals, breezies, a trade expo, members of the royal family moving into town, betting pool changes, more dating shenanigans, a fishy presence, darkness, and the return of a great evil.
Now with 20% more Discord!
[ As usual i post my Slightly dirty tag here as while there is no clop or smut, it's hinted and and conversations tend to get a little filthy, also Cadence.]
Chapters (23)