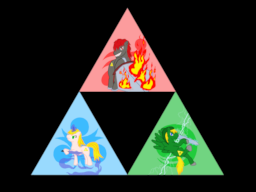 Ganondorf, King of Thieves, Lord of Darkness, Master of Evil and Wielder of the Triforce of Power, had long since grown thoroughly and completely bored with the path the gods had decreed for his destiny.
Time after time it was always the same, try and unite the Triforce, plunge the world into darkness for a time, search out and then kidnap Princess Zelda, watch his minions be defeated one after another and then finally battle Link for supremacy. Rinse and repeat.
All the while knowing that regardless of winning or losing, that no matter what he did or didn't do, that in the end everything would end up repeating itself in another time and place afterwards, again, and again and again, in an utterly pointless never ending cycle.
Having decided that enough was finally enough, and refusing to continue to be a simple pawn at the hands of the gods, he vowed he would find a way to escape from his cumbersome destiny, a way to start anew far beyond the meddling grasp of the gods, a way to reach a realm upon which he could be the master of his own fate.
And after years of careful planning he had finally succeeded.
Sure, the fact he had to drag the know-it-all Princess and the green obsessed Hero along for the ride for his plan to work was a minor inconvenience, but he knew that sometimes sacrifices had to be made. And the fact that this new realm apparently decided to turn him and his two unwilling companions into miniature pastel colored ponies upon arrival also wasn't exactly part of the plan, but he could cope.
After all, that was a negligible price to pay in achieving his deepest wish: freedom.
---
---
In this story Ganondorf, having grown sick of following through the motions his destiny placed before him as the eternal bad guy to be defeated time after time, seeks out to escape from his fate by breaking through the void between dimensions and running away from Hyrule to another realm entirely, Equestria, all the while dragging both Link and Zelda along for the ride.
Arriving long before the founding of the country, back before the events of Heart's Warming Eve and at the highest point of the conflict between the Three Tribes, he and his two new companions will have to deal with a whole new world and it's wonders and dangers. All the while this new magical world will have to learn to deal with its three new strange inhabitants in kind.
Just a warning: This is NOT a Displaced fic. All three main characters are the actual characters from the Zelda series that have been taken to Equestria due to Ganondorf's master plan, and not humans turned into them.
Beta Reader: The Amazing Emtu!
Cover Art: The Incredible swagmu!
Proofreader: The relentless TranquilClaws! (From chp I - XXV)
Featured for the first time! 07/06/2018 to 07/11/2018
Edit: Crossposting at Royalroad where I have the same username.
Chapters (30)