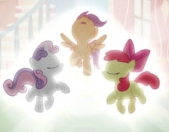 As she suddenly woke up as a tiny pony staring at two very familiar pairs of eyes, Ganondorf couldn't really say she was surprised. Disgruntled and mildly annoyed, yes, but not surprised. She really should've remembered to put something to break the cycle of reincarnation when she made that ritual to escape from Hyrule all those years ago. So being reborn after the end of her last life was by no means a surprise.
Sure, being female this time around was odd. But at least it seemed that there wasn't some destiny bullshit railroading her path in this life, so that was something. Not to mention that Link and Zelda were also here. That was another plus.
No curse, no meddling gods, no stupid destiny. Yes, things could definitely have been far worse. So she and her fellow Triforce Wielders just had to have an average childhood for a change. How hard could that be?
---
---
This is a non-canon sequel to my story The Power of Freedom, following the idea that after their first life in ancient Equestria the Triforce Trio gets reincarnated as the Cutie Mark Crusaders. (Yay!)
Reading TPoF is not necessary to read this, though it would make it more enjoyable in my opinion, all that is needed is to know that the Trio broke free from their original fate of endless reincarnation imposed on them by the gods of Hyrule, escaped to the pony-world and lived a full life as ponies in the early years of Equestria.
Also, since this is a non-canonical AU sequel, there will be no spoilers in regards to the end of TPoF here, so no worries in that regard.
Timeline-wise this story starts about two months before the return of Nightmare Moon.
Beta Reader: The Amazing Emtu!
Featured for the first time! From 01/17/2021; to 01/20/2021
Chapters (5)