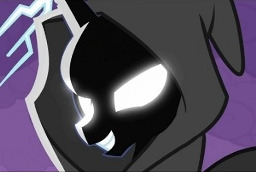 Nearly a thousand years have passed since Princess Twilight Sparkle first ascended to the throne, and, for all intents and purposes, Equestria has been experiencing a golden age of peace and prosperity. And yet, as the eve of the thousandth year of her ascension slowly approaches, something stirs amidst the shadows.
Hidden within the darkest confines of the kingdom a group of ponies gathers in secret, far away from the prying eyes of the Alicorn Princesses, as they silently prepare for what is to come. A secret order formed millennia ago with a singular purpose, to fulfill the sacred commandments of their beloved Mistress.
And now, the moment they patiently waited for, the moment for their schemes to unfold and their plans to blossom is nearly at hoof, for the hour of reckoning is finally upon them.
Their singular objective: to fulfill the Holy One's sacred vision.
Their target: Twilight Sparkle, the Princess of Friendship herself.
And nothing and no one shall stop them from fulfilling their Holy Task, no matter what.
…
…The end result is far less worrisome than most would expect.
---
---
Just a fun little one-shot inspired by all the Doom-talk in regards to the end of the show.
Featured! 05/23/2019; 05/24/2019; 05/25/2019
Ps. Beware, Spoilers in the comments.
Chapters (1)