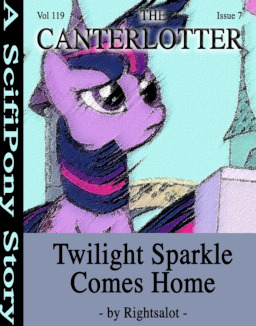 Featured Nov 6, 2018 at 18:30 PST
A reporter from The Canterlotter magazine tries to find the true Twilight Sparkle when she comes home to Canterlot after fighting for a return of harmony. This is the resulting article and accompanying artwork. It paints a picture of a Twilight Sparkle few have seen.
---
For the sake of the FimFiction terms of publication, this is a work of original prose fiction and qualifies as a story. It slots into the Enforcerverse but is completely standalone. The events take place immediately after the closing scene in The Return of Harmony - Part 2.
---
A big thank you for pre-reading and opinions about the artwork to DoContra. All typos, errors, and omission are my responsibilty. Feel feel to report any typos, write a comment (please please please), or leave a critique (but do cite the paragraphs you are discussing). Please remember to press the like button!
Chapters (1)