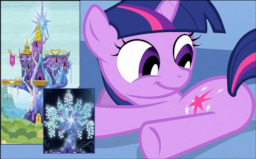 Princess Twilight Sparkle lay there in anguished silence for almost a minute until she decided to let Scootaloo, Apple Bloom, and me help her. It came out as a whisper: "My special talent isn't magic." Of all the ponies we might help, I had never imagined our first might be Twilight, or that it would essential for Equestria that we got it right.
---
Featured (as high as #2) from Oct 18th through Oct 22nd 2015 for 100 hours.
Thank you everypony!
Chapters (1)