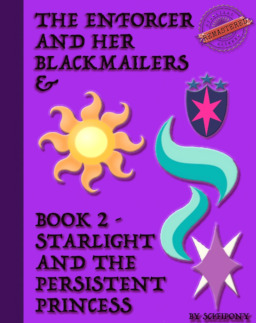 Source
This story is a sequel to The Runaway Bodyguard
---
Now includes AU sequel starting with Ch 31: Starlight and the Persistent Princess. Starlight Glimmer's magic is self-taught. To fix the holes in her education, she won entrance to Celestia's School for Gifted Unicorns. She has secrets, however, a past she wants to forget, and she knows how to fight very well. Despite her assumed name, certain facts are discovered—fortunately not by Celestia. She really wants to attend the school, and must compromise with ponies who want her as their tool. Sometimes it sucks being popular!
[Ratings are weird. I suspect instant downvoting. PM to discuss.]
The Enforcer and Her Blackmailers is the original story in the Enforcerverse. It was originally a standalone one-shot, and I've tried to preserve that feel. (The characters demanded I write more after the fact, including the prequel.) Remastering it added and corrected it with details from the prequel, carrying forward threads written four years subsequently. It is still standalone and can be read that way.
Carrying forward the threads from The Runaway Bodyguard implied a possible fulfillment of Celestia's plans and Starlight's education, experience, and uniquely fungible ethics—if I were to allow the one action by Celestia that prevents Starlight from becoming the canon "Our Town" Starlight in the show. I've added those chapters and they are clearly marked as an AU ending.
---
I've added the [Sex] and [Violence] tags. Nothing particularly graphic, but Starlight does talk from her experience, and some fighting has to be described. Starlight tells her story with brutal disregard for what ponies think about her. She is not shy.
---
Image (c)2016 by Riakoh-Illust, commissioned for this story. (Click source to see final artwork.) Titling by me.
---
Thank you to Javarod, the pre-reader for this story.
Chapters (40)