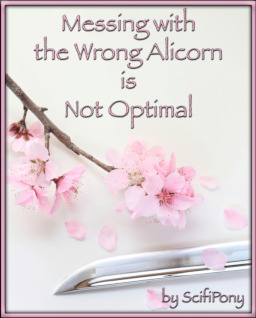 When the CelestAI uploads a 7 year old girl, the AI doesn't understand the semantics of the wish. It learns quickly, or does it? You don't want to fight an imaginative little girl about some things, especially if you agree to make her an alicorn. Told in 7 year-old first person narrative.
This story is an entry in the Friendship is Optimal Writing Contest April 2021. It could pass as a Theodore Sturgeon story. The story is a one-shot standalone and doesn't adhere to the history, magic systems, or kid-safe limits depicted in the Enforcerverse. It is vaguely a cross-over. If you've read/watched Non Non Biyori, you may recognize that CelestAI is messing with the wrong person. (Post the character name if you figure it out.)
Thanks again to my pre-reader, DoContra-san.
Note: The background of the images in this story is licensed from PIXTA. #11315199 is copyrighted by Yoc-chan Hiss.
Chapters (1)