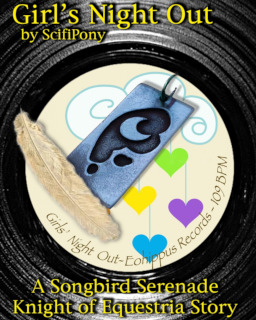 This story is a sequel to Knight of Equestria IV: Unmarked Time
---
Luna visits Songbird Serenade on a special scary autumn night. Listening to records, a family meal, a food fight, and deep revelations about their friendship follow.
---
This is an epilogue to the Knight of Equestria series. You may wish to read this last as some spoilers are inevitable, but this one contains many. Note that Flopsy Mopsy is Songbird Serenade, so please don't act surprised.
---
Special thanks to DoContra! No surprise there. His comments on another story once again inspired this one.
Chapters (1)