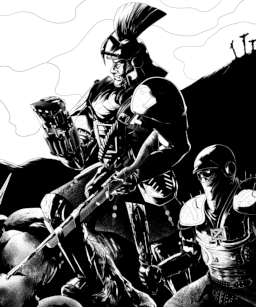 Source
When Cerberus left his post at the gates of Tartarus, Tirek wasn't the only ancient enemy of Celestia and Luna to escape. Of the many monsters that poured out, among them was the first foe that Celestia and Luna ever fought as newly-crowned princesses.
Now free from his constraints and with a thirst for vengeance against the 'false goddesses', the Frumentarii Cassius is once more released upon Equestria to sow havoc in the name of Mars. He will have his revenge, even if that means a new legion will have to be forged.
A Legion in the skies. The Storm Legion.
Chapters (1)