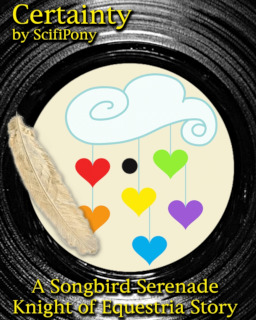 Long before I took the name Songbird Serenade, I met Princess Nightmare Moon. It changed me forever. It revealed in me a strong—and I fear evil—certainty that has affected the lives of many ponies. This is the story of that meeting on the morning of the 1000th Sun Celebration, and its continuing aftermath.
---
An Equestria Daily story post on Sept 20, 2018. (Changed from Certainty: Songbird Serenade, Knight of Equestria because its length caused card view to mangle the title.)
First sequel: Knight of Equestria: Discordant Harmony
---
This story is standalone, but slots into the Enforcerverse. There will be a sequel. Thanks to DoContra for all your coaching to get me through this project, and to make it much more readable! Thanks to Loganberry for help with dialectal issues and a POV issue to do with FM's cutie mark.
Chapters (1)