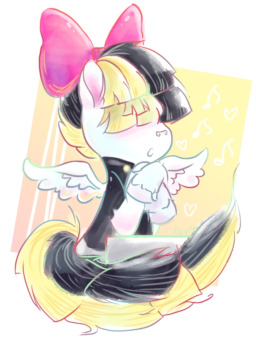 Source
Whenever Songbird Serenade steps onto the stage, the crowd calls for her. They hear her voice. And more importantly, they hear the pegasus' words. But there was a time when Songbird's words were very small and not well known. During her high school days, Songbird was a poet inspired to capture the world by storm with words. Unfortunately, that mindset almost cost her the future she was destined for.
---
No movie spoilers will be in this story. This story is pure speculation.
---
I want to personally thank Crystal Wishes and the people in her Discord for making me feel welcome and happy. You are all great people. Really, thank you.
A special thanks to Sylvian for proof-reading.
---
I wrote this story prior to the movie's release. Cannon lore about Songbird Serenade's may contradict my story, but I wanted to touch on who the pop singer was before she became famous. This is to feed the crowd until the actual movie is out in theaters.
Link to cover art: https://www.deviantart.com/art/Songbird-Serenade-626535085
Chapters (6)