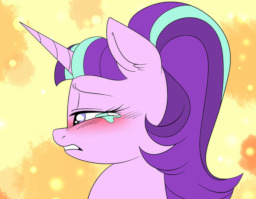 Not even twenty-four hours and Starlight Glimmer has already been forgiven for her acts. Even though she and Twilight have become friends, the unicorn has not told the princess her true pain of her past and why she truly hated cutie marks.
It was more than Sunburst leaving and not returning... Much more than that...
Note to readers: If anything happens during the show that may or does retcon any of my stories will not cause me to change any of my original ideas to any of my fan fictions.
About season 6 premiere: Season 6 may have already have Sunburst's and Starlight Glimmer's friendship issue solved, I think the writers for the show could have gone about it differently. But hey, I still liked it anyways.
Art from this comic: http://dragonfoxgirl.deviantart.com/art/Sunny-Star-MLP-Comic-575387911
Chapters (5)