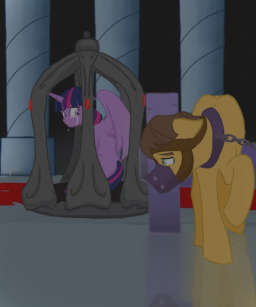 This story is a sequel to Just Some Flowers
---
Readers do not have to read Just Some Flowers to understand everything in the story. However, watching the MLP Movie will help understand my story's scenario.
---
The Friendship Festival was supposed to be a time of enjoyment and happiness. However, thanks to Tempest Shadow, all of that was burned to ashes and the ponies attending the event were taken as prisoners by the Storm Creatures.
Caramel experience as a slave to a Storm Creature named Groak involved taking a few heavy punches from time to time. But none of that pain compared to the arrival of Princess Twilight Sparkle as Tempest's prisoner. And how he chose to take on the miserable task of escorting the mare he cared so dearly for to her doom.
---
I want to give a fantastic and huge shoutout to Sipioc for not only proof-reading, but also for the cover art. You have been a great help in motivating me to move this simple idea I started in August 2016 forward. Thank you.
Link to cover art: https://sipioc.deviantart.com/art/Twilight-s-Escort-722931333
Chapters (6)