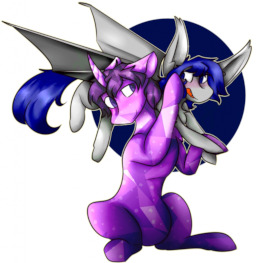 Sugar Crush has been working at the Crystal Empire's bakery ever since she had the chance to arrive at the ancient kingdom. Thanks to the crystal ponies and their accepting nature, the thestral found it very easy on fitting in. To compensate for their kindness, Sugar Crush made an active effort to give every customer she had a hug. And with every hug she gave a customer, a free small item came their way.
But one bright afternoon made everything she did change. One customer named Mineral Water refused her hug and free item, prompting Sugar to make the endeavor on giving the resistant crystal pony a simple sign of affection. Little did Sugar know her pursuit would lead into a much bigger picture than she realized.
11/2/17 Made the popular story list! Thanks for finding the story interesting! :D
11/6/17 Holy crap! My story is being featured?! So soon?! D:
---
Also, a special thank you to Crystal Wishes. You are a huge part of my inspiration when it comes to writing. Thank you.
Chapters (51)