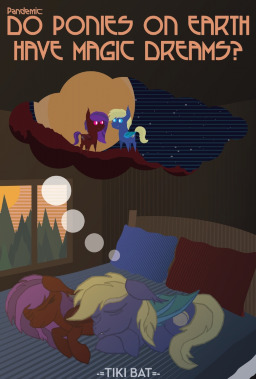 Set in the Pandemic Universe (which existed well before the very real pandemic and this is in no way shape or form related to that) and takes place after the original story, though that's not required to read.
---
All dreams start somewhere. For most night ponies, they start in the dreamscape itself, but that's not always the case for all. Two months after the ETS Pandemic changed the world forever, a bright, optimistic dream starts, whether the ponies responsible for it realized it or not. While some choose to cling to the past, some choose to leave it behind. This is the story of one of those ponies, Silver Eclipse, crafter of dreamscapes and dreams. In the waking world he helped create a dream called Oasis, a place where dreams can come true. But all dreams start somewhere, and this is the story of where that dream started, and the very special pony without whom it would never have happened.
---
Halira's stories, What you are Meant to Be and Picking up the Pieces offer some expanded night pony lore which introduce and expand on some of the concepts in this story, but it's not necessary to read. The original story is also recommended if you'd love to learn more about this universe.
Special thanks to:
ASGeek2012
Halira
Lawra
ModernSilver
FlutterJackdash
Javarod,
and
Alias_The_J
for offering much needed feedback and advice over the course of writing this story.
This is a rewrite of my very first story, and definitely my passion project as of right now. Any feedback or comments would be greatly appreciated, even if it's just something simple or small. Thanks!
Chapters (55)