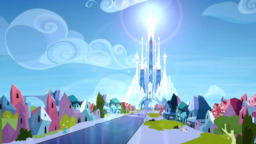 This story is a sequel to The Commander's Compromise
---
Chartreuse Le Feu, now in the apprenticeship of her dreams, is assigned to be a helper to Chalcedony, a blind crystal pony who can see into the thaumaturgical spectrum of light, but can't view mundane objects. After being introduced to one another by Sunburst, they go out to visit Chalcedony's favourite tearoom.
Along the way, they meet a pegasus colt of the nocturnal variety, and he's a bit down in the dumps...
The day is just full of surprises.
An entry in the Weedverse.
Chapters (5)