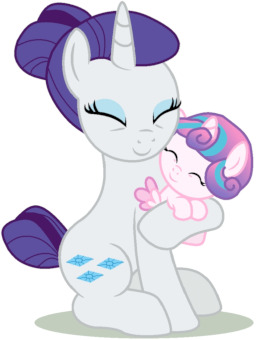 This story is a sequel to The Wrong Mare
---
The world is aflame and broken. In the Crystal Empire, Rarity tries to ensure her part of the world is less broken than the world outside it, starting with finally taking proper care of the little filly that's supposed to rule it one day. But between the Empress Nightmare Moon's plans for Equus, the damage of Sombra's short but brutal second reign, the danger of the Changeling Hegemony on the western border, and her own personal problems, it's going to be a lot of things, but not easy.
Important: this takes place in the Equestria At War universe. Equestria At War is a mod for the grand strategy game Hearts of Iron IV, be sure to check out their Discord and Reddit if you're not familiar with it. They also have a group on this site: https://www.fimfiction.net/group/212917/equestria-at-war
I couldn't find any Rarity and Flurry Heart art, so I made it myself (hence why it's not very good). This is the base I used: https://www.deviantart.com/elementbases/art/MLP-Base-248-789800058
Rated Teen for sadness, the consequences of war and a deranged tyrant ruling over a nation for a good two and half years, a four-year old orphan and all that entails, crude humour, and possibly more to be added in the future.
WARNING: I have no plan or outline for this story, this is purely a passion project, if it ends up dying in a few weeks months time I'll tell you. I am now in possession of a general outline and plan for this story, not to worry.
Chapters (32)