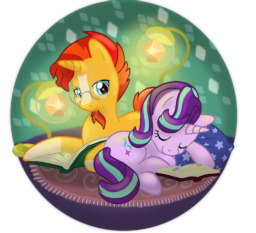 Source
Starlight is good with magic, but she's no scholar—not like Sunburst. One of her best friends and arguably the smartest, cleverest, most prepared pony she knows. Who grew up with books in the same way she grew up with magic running in her veins.
The world is enjoying a new era of peace, but there's still so much to do—new things to learn and try. Starlight thinks that there's no harm in reading some of Sunburst's books—to learn about the world in other ways instead of simply living in it.
Reading the books he recommends turns into an interest for poetry, for she can't help but feel moved by the ancient Equestrian sonnets. Her unexpected interest in the genre makes her try her hoof in writing some. And no, they're not very good, but they are sincere if nothing else.
And she would never, ever show Sunburst her poetry. Not when most of them are about him.
---
Now with a review from mushroompone from the Fillydelphia Oracle!
Chapters (3)