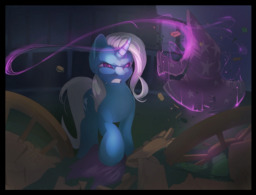 Source
Trixie and Sunburst led the students to safety through the caves below the School of Friendship while Starlight Glimmer stayed behind to hold off Chrysalis.
Starlight Glimmer has fallen.
Trixie isn't happy about that.
---
An expansion of my entry for Flashfic 150 - February 2020 with the prompt 'Departures', and winner of that month's competition!
Featured 3/5/2020 & 3/6/2020!
Chapters (1)