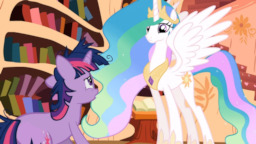 Source
Rumors of a dark cult on the rise are circulating around Equestria. As Princess, Twilight Sparkle has no choice but to investigate this potentially dangerous development.
When she finds that the cult is worshiping her as a divine figure, things become more uncomfortable.
So Twilight falls back to her safe answer: consulting with Celestia for advice.
Unfortunately, Celestia's answers are not what Twilight expected.
---
Written for Fan of Most Everything's Imposing Sovereigns II contest with the combined prompt of Twilight Sparkle and The New.
Featured 10/24/19-10/30/19!
Featured in Equestria Daily's 44 Awesome Fanfics to Read for Twilight Day! on 8/6/2020!
Now with a Spanish translation by Spaniard Kiwi!
And by PresentPerfect with a rating of Recommended!
Chapters (3)