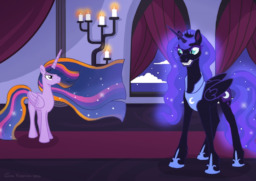 Twilight Sparkle discovers that the alternate timelines created by Starlight Glimmer in her misguided attempt at revenge did not, in fact, disappear when the original timeline was restored. Instead, they persisted as separate, parallel universes.
Never one to leave a job unfinished, she decides to employ the magic of friendship to restore those universes to a more harmonious state.
She begins with Nightmare Moon.
---
This story is the first in a series. The other stories can be found below.
1. For Want of a Horseshoe <-- you are here
2. A Big Brother's Duty
3. Healing
---
Cover art provided by the excellent Sini.
Chapters (8)